About AVENTEC
AVENTEC was founded in 2021 by Tony Smith and Steve Smith. Read more about the founders below.
AVENTEC gives you full control of everything that's important in managing your construction projects.
AVENTEC is a cloud-based construction industry project management and document control system, which enables project managers, clients, consultants, quantity surveyors and contractors to work together and have access to the right information needed for their specific roles in the overall construction project.
Multiple projects can be managed at the same time with different organisations and people appointed to different roles in each project
Information is highly structured, properly controlled and easy to find. Read more about the BENEFITS OF AVENTEC below OR CONTACT US NOW to get started.
About the Founders
Tony Smith has been working in the construction industry for 40 years in the UK, Middle East and South East Asia.
He has been Project and Commercial Manager and Director on a number of prestigious construction developments including Bangkok's famous MahaNakhon Tower and Chao Phraya Estate.
His systems and control procedures are widely respected by major clients and developers alike and form the basis of the AVENTEC system.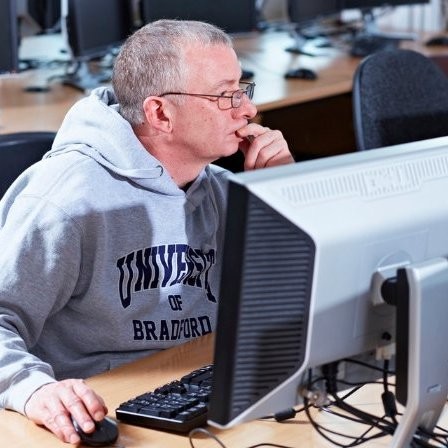 Steve Smith has a first class honours degree in Computer Science and was given an award by the British Computer Society – Chartered Institute For IT for the best overall performance on his programme in 2016.
He has over 30 years experience working with financial control systems in companies in the UK, USA, Europe and done business in other countries including the Middle East, India and Singapore.
He is experienced in meeting the rigorous demands placed by major financial institutions where data access and integrity are paramount.
BENEFITS OF AVENTEC
All your project documents in one place
No more hunting about and searching through filing cabinets, emails or desktop folders to find the document you are looking for!
With AVENTEC all of your project documents are stored in a secure cloud based environment* and organised in a highly structured manner with very specific document logs and useful filters - with key document details shown on screen. And a simple click brings up the original document .

Example of an RFA (Request for Approval) log with filters by organisation and type.
Because AVENTEC is cloud based, you can access your information from anywhere in the world.
All the information at your fingertips, from your laptop in any meeting, anywhere!
For full details of AVENTEC modules see our PRODUCTS page or CONTACTS US NOW to get started.
*AVENTEC uses Amazon Web Services to ensure your project documents and information are held in a secure and trusted environment.

Full document revision control
No more worry about which is the latest revision of any document!
The document log for each type of document will only show the latest revision and revision number for that document: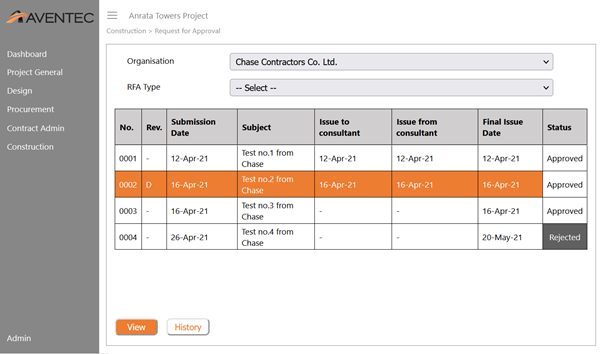 And a simple click will allow you to see the entire revision history for each document:
Full details of each document can be viewed at any time: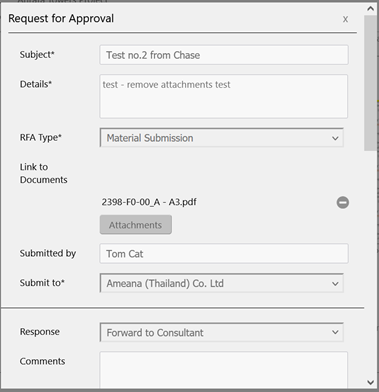 For full details of AVENTEC modules see our PRODUCTS page or CONTACTS US NOW to get started.
"At a glance" view of the state of your project
Let your client or manager see all the key details of the project for a thorough understanding of progress and costs.
AVENTEC has a built-in dashboard with graphs to show all the key construction and commercial information with filters to provide more detailed analysis.
This is a great tool for senior managers and busy executives and excellent for demonstrating your knowledge in those difficult project meetings.
For full details of AVENTEC modules see our PRODUCTS page or CONTACTS US NOW to get started.
You can get started on the "Basic" version for FREE!
No more worries about whether an expensive piece of project management software will justify the investment and cost.
You can experience ALL of the benefits mentioned above in our "Basic" system which is free to use on up to five different projects.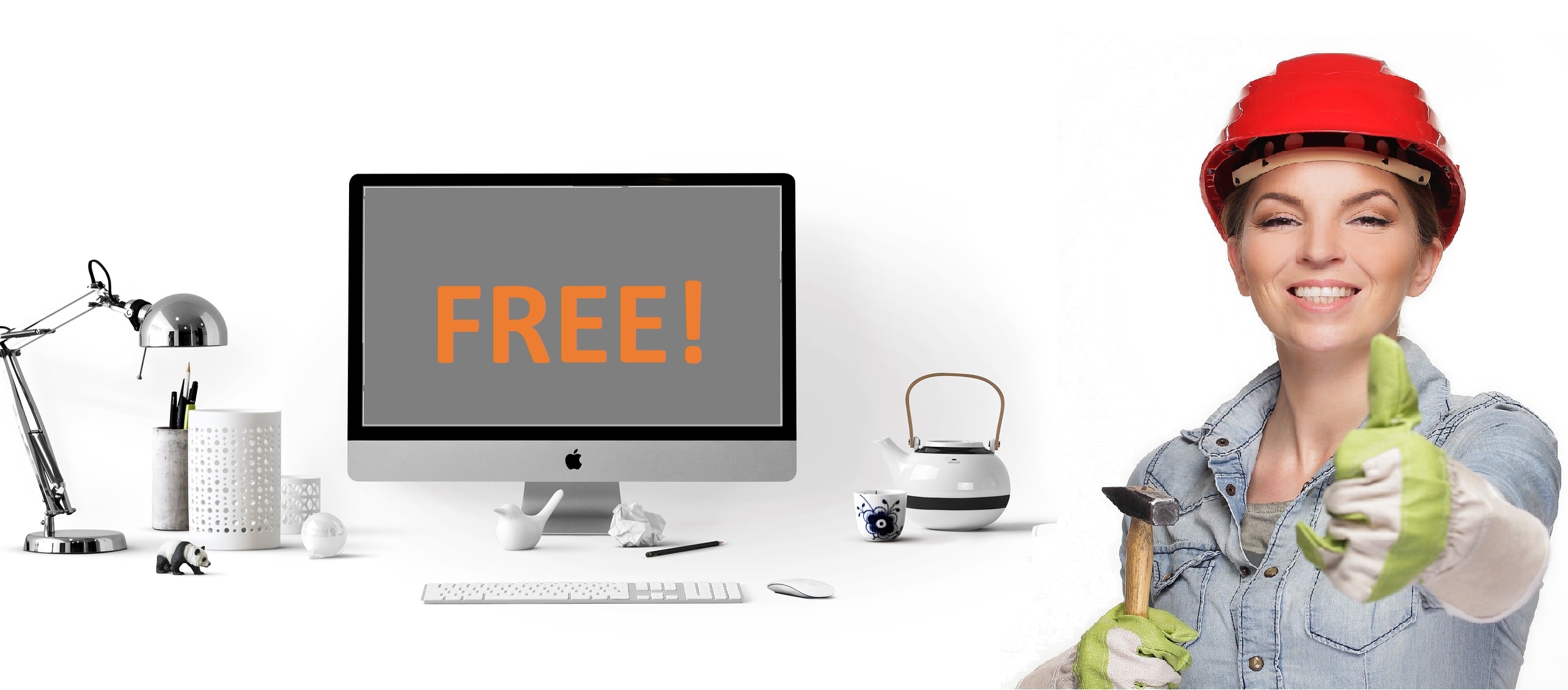 We are totally confident that you find all these benefits such a great experience that you will want to upgrade to the standard or premium versions, which are still priced well below other systems available in the market. But if you don't want to upgrade, then we are happy for you to continue to use the basic system totally free of charge.
For full details of AVENTEC modules see our PRODUCTS page or CONTACTS US NOW to get started.
"AVENTEC. The future of project control!"